Member Login
Events in 2017
[24/Jul/2017]
I Can Fly Program, Cathay Pacific
Cathay Pacific Airways Manila held its third I Can Fly Program on July 24-29, 2017. As in past years, PCCCI coordinated with and volunteered to help i.. more
[09/Jun/2017]
The Start of a School Year in FPTI-ERDA Tech
Ms. Elena Ongkiko-Santos of PCCCI visited FPTI-ERDA Tech to hand over financial support for its old and new scholars... more
Members' Corner
[15/Aug/2017]
Letters from Our UPHSI Scholars
It is so heartwarming to receive letters from our scholars in Iloilo, whom we are unable to easily visit. At the start of a new school year, they wrot.. more
[11/May/2017]
UPIS Update
PCCCI caught up with its UPIS scholars to get their take on the new program and curriculum... more
View All
Donate
Filipinas Dekada 1898 Annual Fund Raiser
19/Nov/2016
Our PCCCI annual themed charity fund raiser, a major source of support for our deserving but marginalized high school scholars from UPIS Diliman, UPIS Iloilo, and ERDA-Tech, was held on November 19, 2016 at the Blue Leaf Filipinas on Roxas Boulevard next to City of Dreams in Parañaque, Manila. It was certainly a spectacular affair, elegant and yet old-fashioned, themed to present the Philippines in the 1890's, when our national hero Jose Rizal was sparking revolution, be it unintentionally, through his novels "Noli Me Tangere" and "El Filibusterismo". It was a time of change and daring, when the Indios, as Filipinos then were called, wanted to take their destiny in their own hands.
Philippine Cabin Crew Charities Inc. has been in existence for 7 years now, and it has been growing at a steady pace of sustainability as we seek ways to "pay it forward" through education and our various acts of kindness to our less fortunate kababayans. In the same manner as our forebears, we wish to help our countrymen take destiny in their hands.

We have been doing themed parties for the past 6 years, ranging from the Mad Hatter party, to Chicago of the 1920's, Broadway, the International theme, and Black and White in Review, which have been very successful, very well-attended, and very photo-worthy! PCCCI members love to dress up and have fun!
This year, we thought of raising awareness in our history and love of country by going back to the days of the heroes of our country's birth, circa 1898. To acknowledge that era, we encouraged our guests and sponsors to be creative and come in the fashion of the period of Gat Jose Rizal- characters from his "subversive" novels Noli Me Tangere and El Filibusterismo that inspired the revolution of the era, i.e. Maria Clara, Crisostomo Ibarra, Elias, Doña Victorina, Padre Damaso, Sisa with sons Crispin and Basilio, or Kapitan Tiago. Or they could come as Josephine Bracken, Heneral Luna, Apolinario Mabini, Gabriela Silang, and other legendary characters of the time!
We always have fun in our themed parties, and this year was by far the most inspirational as we were brought back to a time when love of country was starting to burn in the hearts of Filipinos! The middle class was burgeoning, and Filipinos were coming to their own in terms of fashion and style. And our members and guests didn't disappoint! Indeed, charity need not be a somber affair!
Graciously hosted by Narissa Gonzales Sibayan and Edward Lim, the evening's program opened with a message by 2016 PCCCI President Lou Fadul, who thanked all for coming and supporting PCCCI in its ventures. A delectable degustation dinner featuring Filipino food, succulent Rico's lechon from Cebu, and a sumptuous dessert spread, coupled with tables laden with Filipino finger snacks and fresh lanzones fulfilled any culinary cravings guests may have had. Rose Franco and Nessie Guillo, CX flight attendants, serenaded all with heart-warming renditions of Erestu and Noong Unang Panahon, respectively, while ladies from La Hermandad Zamboangueña Foundation, Inc. an NGO which PCCCI member Jean Gimena-Montinola is a member of, gracefully performed the colorful Pay Pay de Zamboanga and Flamenco dances. A short, fun game hosted by Queenie Yap then tested the familiarity of guests with different aspects of Philippine history, and those answering correctly were triumphant and rewarded with small gifts. A fashion show, tagged A Walk in Time, presented Filipina dress from the early Spanish era up to recent times, showcasing Señoritas Nobles, beauties of the foundation, including Gina Topacio-Wright's daughter Vanessa, 3rd place runner up in the recent Ms World Philippines beauty pageant. A special feature of the show were the jewelry worn by the models, which were creations of Anna Flores Knight, a former Cathay Pacific flight attendant whose pieces, available in Singapore and Hong Kong, are influenced by Filipino culture with a modern European twist. Dinner guests were also specially treated to a short version of the witty Carlos Celdran's "Walk This Way" Intramuros Tour. And in honor of Jose Rizal, a zarzuela written by Rackie Estaniel and presented by Las Mujeres en la Vida de Crisostomo Ibarra, a committed group of talented PCCCI members, brought the house down with its combination of wit, grace, and drama. Truly a program which delighted all present!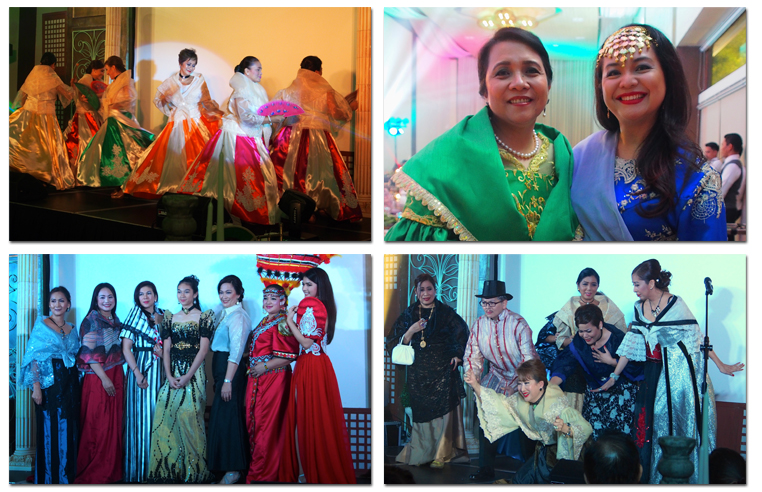 The affair was graced by many guests and supporters of PCCCI, including Mr. Robin Bradshaw, CXManila's new country manager, and his lovely wife Haydee; Mr. Frank Gorrez, an agronomist whose work at sustainable local self-supporting farming with the people of Lanao PCCCLtd was proud to assist with; and Mr. Carlos Celdran, the popular performer whose tours of Intramuros have a cult following. Invited to the ball were the scholars of PCCCI from Erda-Tech, for whom the magical night was a special, unforgettable treat! Unfortunately, those from UPIS Diliman couldn't make it!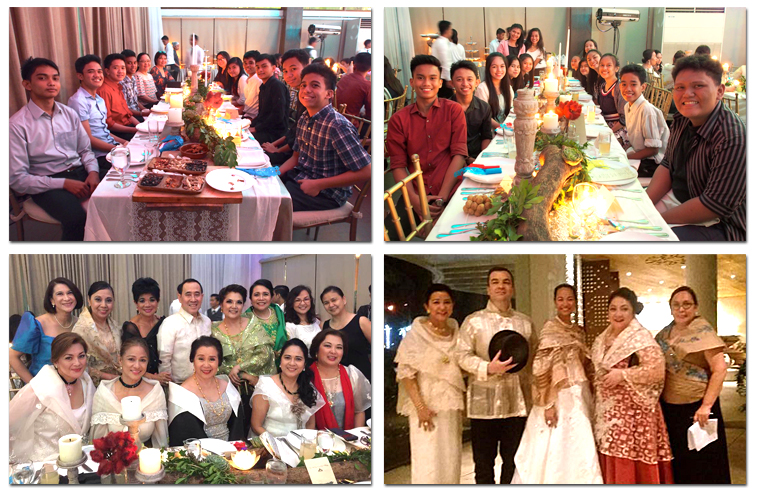 The evening ended with dancing, and who knew PCCCI members could dance in their Filipiniana finery? The long gowns and panuelos wrapping the lovely shoulders of the ladies certainly didn't stop them from enjoying themselves!
Small raffle prizes from our sponsors delighted guests who went home with an assortment of cakes, jewelry and gift certificates. The grand prizes of 2 pairs of round trip Cathay Pacific Economy class tickets from the Philippines to Hong Kong, and Hong Kong to Madrid, were won by Arizona Sibayan and Larcy Mangahas Libre respectively.
It was truly a splendid evening of culture, friendship, generosity and thanksgiving for all the blessings PCCCI and its members have enjoyed through the year. And all for the noble cause of raising funds for the youth who have always been the hope of a nation. Our heroes of old would be proud!
Back