Member Login
Events in 2017
[24/Jul/2017]
I Can Fly Program, Cathay Pacific
Cathay Pacific Airways Manila held its third I Can Fly Program on July 24-29, 2017. As in past years, PCCCI coordinated with and volunteered to help i.. more
[09/Jun/2017]
The Start of a School Year in FPTI-ERDA Tech
Ms. Elena Ongkiko-Santos of PCCCI visited FPTI-ERDA Tech to hand over financial support for its old and new scholars... more
Members' Corner
[15/Aug/2017]
Letters from Our UPHSI Scholars
It is so heartwarming to receive letters from our scholars in Iloilo, whom we are unable to easily visit. At the start of a new school year, they wrot.. more
[11/May/2017]
UPIS Update
PCCCI caught up with its UPIS scholars to get their take on the new program and curriculum... more
View All
Donate
Adopt a Tribe, See Better Days (A Little Act of Kindness)
30/Jan/2015
On the first day of 2015, PRO Aida Padua received a call for help from ex-Cathay cabin crew Rosanna "Bobsey" Lim-Gan situated in Davao. Bobsey and her mother were conducting a basic Adult Literacy and Livelihood Progam (reading, writing, numeracy and life skills) for 150 seniors (aged 40 to 93) of the Kagan tribe of Davao del Norte and Sama tribe of Samal Island. They had noticed that one impediment to learning was the lack of reading eyeglasses. The seniors could not see what they were reading or learning to write clearly, and they would borrow each others' reading glasses to do so, slowing learning. So was birthed "Adopt a Tribe, See Better Days", an initiative to have the eyesight of the participants checked, and prescription glasses be provided.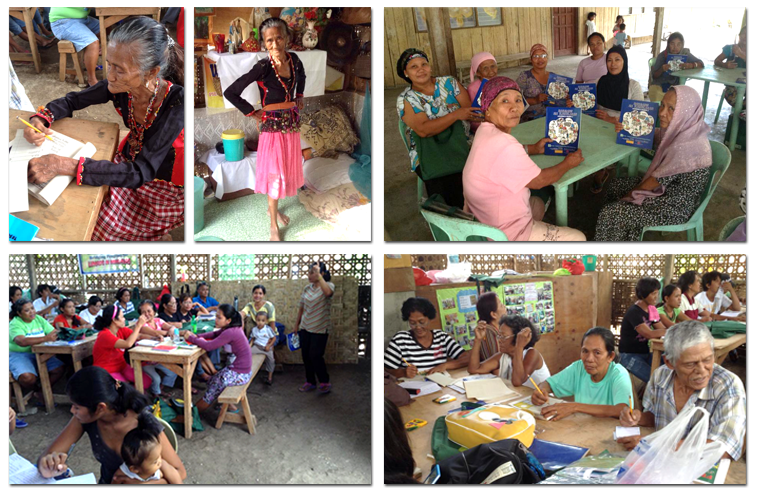 As PCCCI had intentions of providing reading glasses to poor senior citizens needing them, this call was especially auspicious to start the year with! With education also being a core thrust of PCCCI for the empowerment of the needy, helping these marginalized senior citizens was especially dear to our hearts. (The elderly woman in the top left photos is 93 years old. She will be featured in the newletter of the Korean National Commission- UNESCO, which funds the literacy program of Bobsey).
Above are members of the Kagan tribe class learning from a cooking demonstration of coconut balls, banana burger patties and squash maja as part of the livelihood program. Lady in white blouse cooking coconut balls is Bobsey Lim-Gan.

Ideal Vision in Davao was contracted to carry out the eye examinations and provide the reading glasses for the members of the program. Bobsey says it was indeed very touching to see the oldies with their new pairs of reading glasses. An old lady exclaimed upon receiving her glasses, "Salamat kaayo kay makakita na gyud ako klaro!" (Thank you because now I can see clearly!) This was echoed by the other seniors.
Bobsey's literacy program ran from October last year til April this year, with a culminating activity on April 25. PCCCI is privileged to be part of the hand of help to these over-looked members of society. To be instrumental to the growth in self-esteem and clearer future for these elders in society is the reason and reward for all PCCCI members to continue giving from the heart.
Back